M-Vac: The Market-Leading Forensics Vacuum
Sorenson Forensics was the first forensic laboratory in the country to validate the M-Vac Collection system for forensic evidence. This new vacuum technology allows for the efficient collection of more DNA from forensic evidence than traditional swabbing or cutting techniques. Swabbing is preferred when it is known where exactly something was touched but that is not often the case. M-Vac can pick up DNA on fabric, ropes, and bricks; see the extensive list here. 
Many cases with inconclusive or weak DNA results have been moved forward with the M-Vac.
When to Use M-Vac:
Textured, porous & rough substrate sampling
Capable of sampling large surface areas
Deeper surface extraction
Better collection results
Stalled Cases Now Have Another Chance
We have used this technology to help solve many cold cases around the country. Check out the following articles showcasing this technology solving crime:
The M-Vac® allowed forensic scientists to test DNA they were not able to test before. [read more]
Justice After 39 Years – Touch or Trace DNA [read more]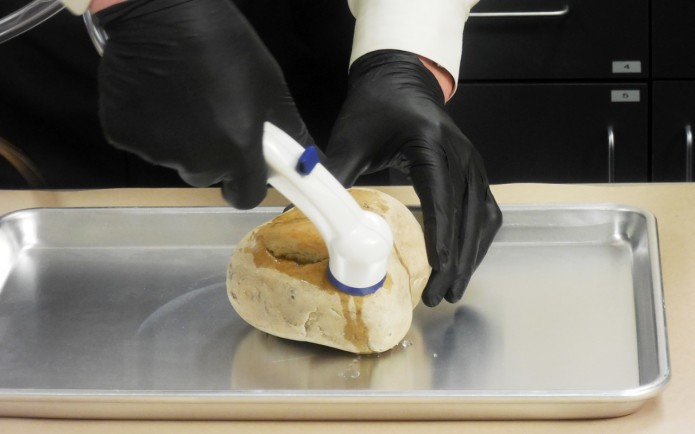 The M-Vac System has been Proven to be Valuable in the DNA Collection Tool Belt for Sorenson Forensics.
The M-Vac System's ability to extract DNA from difficult samples, porous or rough surfaces, or previously tested items has helped investigators solve more crime. It expands potential evidentiary items that can be collected and tested. In simple terms, this technology helps detectives, analysts, and CSI move cases forward.
How Does the M-Vac Process Work When Other Extraction Attempts Have Not?
The M-Vac is a wet-vacuum DNA collection system. Collection solution is sprayed onto the surface while simultaneously being vacuumed off of the surface. It creates a "mini-hurricane" that loosens the DNA material which is transferred to the collection bottle and later concentrated onto a filter.