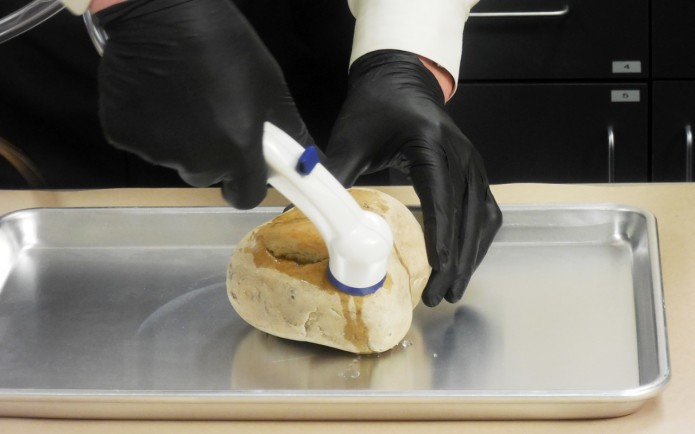 It's Solved Cold Cases Around the World. Learn More about M-Vac Below
You might have read one of our blog posts on the M-Vac System, or seen a page on our website devoted to it. We found it interesting enough to create another blog post, this time with more information about the inner workings of the system. As a quick refresher, the M-Vac is a wet vacuum device for scanning and collecting DNA samples from rough and porous materials. Swabbing has been the preferred DNA profile extraction method for years, but the surface may sometimes be too rough or too large to employ this technique. In such cases, wet vacuum alternatives, like the M-Vac, can get better results.
M-Vac was not originally created for forensic purposes. Dr. Bruce Bradley invented the system after an E. coli outbreak in the 1990s that killed six children and sickened many more. He created the system to solve inefficiencies in sampling and to improve food safety operations, but the technology was too sensitive when finding food contaminating pathogens.  Forensic investigators have now adopted the technology as this sensitivity is not a drawback in forensic DNA analyses.
Besides swabbing, investigators may use it instead of or alongside cutting and taping. M-Vac is instrumental in collecting samples from sources with insufficient DNA or partial profiles and mixtures. It also supplements traditional sampling techniques that have produced inconclusive or failed results. M-Vac works with touch DNA, LT-DNA (low-temperature DNA), and contact DNA. It's been shown to work better at collecting DNA than swabbing, cutting, or taping.
The system works by picking up epithelial cells, including those found in saliva and urine and those resulting from touch. Others include blood and seminal fluid.
It is used in conjunction with a support equipment case (SEC), which provides a vacuum and a pressurized sterile fluid. The SEC has a suction pump and uses HEPA (high-efficiency particulate air) filtration to make certain that the exhaust air contains no pathogens. It also has a chamber used to pressurize 1-liter sterile collection solution bags. There is a control panel too, as well as integrated holders to secure the M-Vac after use, and a handcart for portability.
SRS (surface rinse solution) is a sterile, DNA and RNA-free collection solution that gathers tiny particles from a surface. It comes in a 1-liter bag with an aseptic connection port that connects it to the SEC. The collection solution should be processed in a clean DNA-free room and treated with gamma rays to extend its shelf life.
The SRS is sprayed onto the surface and the M-Vac vacuums the object, causing a "mini-hurricane." This loosens the DNA material, and the vacuum pulls it onto the collection container. The whole process is like that of a miniature hand-held carpet cleaner. The extracted DNA sample is then processed by laboratory professionals after passing through a filter or a microcentrifuge.
Using a 1.4-inch diameter collection head, M-Vac scans a swath about one inch wide until it collects a buffer of about 30 milliliters. Once the collection bottle is removed, its contents are emptied into a disposable and sterile apparatus through a PES (polyethersulfone) filter. The collection solution or a filtrate is run through the collection bottle to pour all DNA material onto the filter, a process that concentrates the collection.
The filter is then processed in the next phase. The concentrated DNA material on the filter is cut into chunks and deposited in a microcentrifuge tube with a capacity of two milliliters. Extraction kits, such as those made by Qiagen and Promega, aid in the retrieval of DNA. Organic Techniques and Chelex are two other dependable extraction methods.
M-Vac can collect a sample from a two-square-foot area per bottle. To sample a larger area, the bottle can be replaced or filtered its contents and reattached to the SEC. All the contents should be mixed into one sample for final analysis. Alternatively, investigators may use individual M-Vacs and either sample individual parts or combine their contents for examination. One of the biggest benefits of the M-Vac is that it can process larger areas as a single sample over cutting or swabbing. Large areas of clothing can be processed for touch DNA, or even entire lengths of rope, rocks, or bricks.
As the only wet-vacuum forensic DNA collection system that is sensitive and scalable, the M-Vac helps investigators ultimately solve more crimes. It may not be the perfect fit for every case, but for cases that include rough and porous items, items too big for swabbing, or items that have already been tested, this unique tool may help solve the case.
Read about cold cases that M-Vac helped solve here and here.