TPD Forensic Lab Looks Doing More With Lean Six Sigma and Sorenson Forensics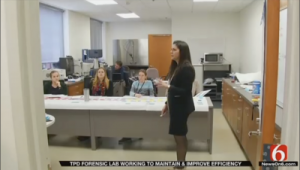 "Budgets are not really being increased we are not really getting a lot of money so we have to figure out ways to increase efficiency and to do more with less," she said.
They recently started implementing a training called Lean Six Sigma, which will help improve performance by removing extra steps from the process while still maintaining accuracy.
Click here to view this article and watch the video published on newson6.com
Sorenson Forensics is a leading provider of advanced forensic casework and DNA testing services to federal, state and local crime laboratories. We also assist officers of the court in individual criminal cases and offer comprehensive forensic DNA services to private-industry clients.  Contact us to see what we can do for you, and follow us on Facebook, LinkedIn, or @ForensicDNALab on Twitter.