Forensics Spotlight: A Day in The Life of a Forensic Scientist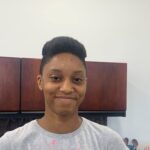 Education:
B.S. in Forensic Science from Grand Canyon University
M.S. in Forensic DNA and Serology from University of Florida
Explain your role and what a typical day looks like for you.
Senior Forensic Scientist
I look at the evidence we receive and decide on the best route to take to get an unknown profile in the lab. Then I start processing for extractions. After that I write a report on the findings and review with the client.
What motivated you to choose a career in forensics, and what keeps you motivated now?
I've always been interested in science and being hands-on, and you can directly help someone's darkest day and find some sort of closure.
What case have you been most proud of?
A cold case where I developed a suspect profile that was eligible to be added to CODIS.
What advice would you give to a young person considering a career in forensics?
If you think it's like CSI, it's not. But it can be very rewarding.
What do you enjoy outside of work?
Playing with my dog, watching anime, and playing video games
---
The scientists at Sorenson Forensics are experienced, dedicated professionals who are committed to using their knowledge of DNA science to uncover truth. In this Forensics Spotlight series,  get an intimate look at what we do here and what keeps us excited about and engaged in this fascinating field. Because our employees deal regularly with confidential crime-solving work, we are identifying them only by their initials. 
Sorenson Forensics is a leading provider of advanced forensic casework and DNA testing services to federal, state and local crime laboratories. We also assist officers of the court in individual criminal cases and offer comprehensive forensic DNA services to private-industry clients.  Contact us to see what we can do for you, and follow us on Facebook or LinkedIn.